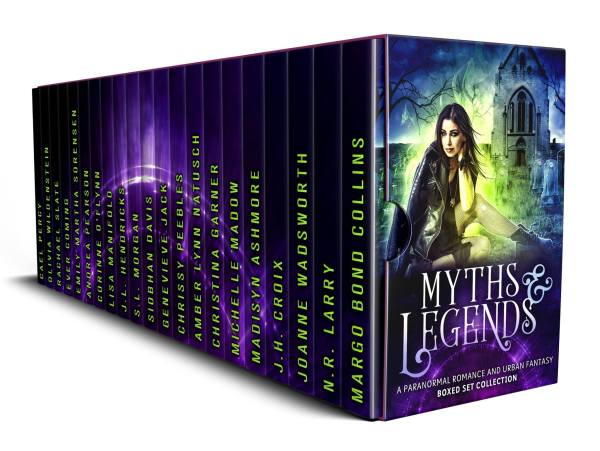 I've got two books coming out in brand new multi-author box sets!

You've probably noticed that, while I released a new book every month in 2016, I haven't published anything new since December. There's a reason for that: I was still writing at a fast speed, it's just that both books I've finished since December are going into a multi-author box set!

Myths and Legends will be coming out first, on April 18th. If you're an iBook, Nook, or Kobo reader, you'll want to pre-order it or buy it immediately after it's released, because it'll only be available on those platforms for a week. After that, it'll be exclusive to Amazon.

Spellbound comes out just two weeks later, on May 2. Same thing if you're an iBook, Nook, or Kobo reader; it'll be going into Kindle Unlimited after a week, and when it does, it'll be exclusive to Amazon.

Both of the box sets will only be available for three months. After that, I'll get my rights back to both of those books and I'll publish them on my own.

First up: Twenty-Four Potential Children of Prophecy will be in Myths and Legends. It's a humorous young adult fantasy with a main character who is trying really hard to prevent the Fates from turning her into their prophesied heroine.

Second: Trials of a Teenage Werevulture will be in Spellbound. It's a young adult urban fantasy with a teenage girl who thought she was going to become a werehawk. Instead, she's a werevulture.

Both of those books can stand alone and have a satisfying ending. Both of those books are also the start of a series, and will have a sequel forthcoming after I publish the first book separately.


Current progress on various projects:
(updated March 22, 2016)


Drawing:


To Prevent World Peace Chapter Sixteen


Lettering:


To Prevent World Peace Chapter Sixteen


Writing:


Fairy Icepack (Fairy Senses #8)


Finished and exclusive to Myths and Legends until July/August:


Twenty-Four Potential Children of Prophecy


Finished and exclusive to Spellbound until August:


Trials of a Teenage Werevulture


Stalled until I have time:


A Magical Roommate: The Second Semester